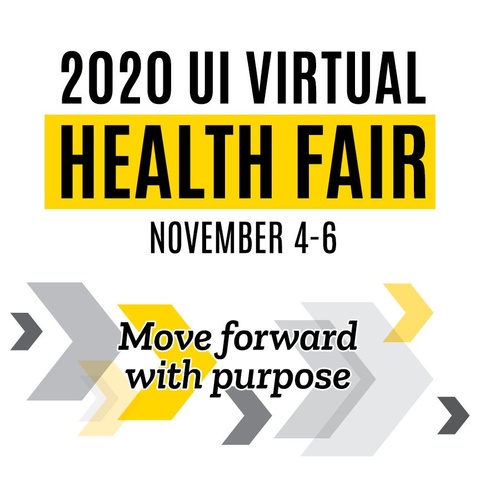 Online Wednesday, November 4 to Friday, November 6, 2020 
2020 UI Health Fair: Move Forward with Purpose
During these chaotic times, make a connection with fellow Hawkeyes for renewal, resilience and empowerment.   
The UI Health Fair events create opportunities to come together, learn, get inspired and leave with hope for the future.  
When you know your why, you're able to use your strengths, gifts, and talents to move forward in a positive way.  
All sessions to be held via Zoom. No registration required. The capacity for the health fair events is 300 UI faculty/staff. We plan to livestream all except the TIAA Gold Series presentation to our UI liveWELL Facebook page.
Health and Wellness Resources for Employees
Benefits, UI – The University of Iowa offers one of the most competitive, comprehensive benefits packages around, with programs that enhance the health and well-being of faculty, staff, retirees, and students alike – health insurance, dental insurance, flexible spending accounts, retirement, vacation and sick leave, and employee discounts.
Center for Disabilities and Development – The Center for Disabilities and Development at University of Iowa Stead Family Children's Hospital is dedicated to improving the health and independence of people with disabilities and creating a life with opportunities for everyone.  People who come to our clinic often have complex needs, which is why we use a team approach, bringing together the right experts to help families find answers.  At the heart of each team are the patient and family.  The center has been designated the state's University Center for Excellence on Developmental Disabilities and strives to be the state's most trusted resource for health care, training, research, and information for people with disabilities.
Employee Assistance Program (EPA) – During these fast-paced times of stress, change, and COVID, managing the competing demands of work and family life is more challenging than ever.  The Employee Assistance Program (EAP), a unit of Health and Productivity, provides integrated services to faculty, staff and their family members to promote emotional well-being and to increase engagement and productivity among member of our community.  The Employee Assistance Program offers confidential short-term counseling to faculty, staff, and their families; consultation for supervisors and managers; information and referral to community resources; sleep resources, and assistance for those struggling with substance abuse problems.
Employee Health Clinic Influenza Campaign – There are several different ways that you can choose to receive your flu vaccine this year.  You may attend a flu vaccination clinic or you get vaccinated without an appointment at the University Employee Health Clinic, located at 1097-1 Boyd Tower at UI Hospitals and Clinics (Elevator A, Level 1).  Hours are from 7:30 a.m. to 4:30 p.m., Monday through Friday.
HR Family Services, UI – Family Services provides programs and resources for University of Iowa faculty, staff, and students to attract, retain, and engage them throughout their careers by providing an environment where individuals can be successful in their professional, academic, and personal lives. Areas of focus include child care, elder caregiving, remote work/flexible work arrangements, on-campus lactation rooms, and financial well-being.
Learning and Development, UI – UI Learning and Development, a unit of Organizational Effectiveness, provides professional development services and training opportunities for individuals and departments.
Mindfulness Programs – Mindfulness means maintaining a moment-by-moment awareness of our thoughts, feelings, bodily sensations, and surrounding environment through a gentle, nurturing lens.  It also involves acceptance, meaning that we pay attention to our thoughts and feelings without judging them.  When we practice mindfulness, our thoughts tune into what we are sensing in the present moment rather than rehashing the past or imagining the future.
Office of Sustainability - Offers several ways to virtually learn about Sustainability at Iowa before, and during, the faculty, staff and students' return to "campus". Check out the rest of our website for even more tools and resources designed to help you learn, work, and live sustainably at Iowa.
Recreational Services -Promote and coordinate campus-wide competitive and recreational activities. To attend one of our FREE group fitness classes, members will need to reserve their spot in a class via our online registration system.  We will also be hosting several specialty small group training classes this semester.
Rehab Therapies - Helping each person make the most of their functional abilities and improve their quality of life is the goal of our specially trained therapists and therapy assistants. We are committed to providing outstanding clinical care to every patient. We use treatments based on the most current research to get our patients back to the activities they enjoy. Our specialists are able to work with nearly any condition requiring physical therapy or occupational therapy.
Sports Medicine – University of Iowa Sports Medicine delivers comprehensive care for competitive and recreational athletes of all ages.  The physicians at UI Sports Medicine are all fellowship trained in sports medicine and provide expertise in a wide range of musculoskeletal and medical conditions. You will be evaluated by the same physicians who take care of all the University of Iowa athletes and teams.
Staff Council – University of Iowa Staff Council, your voice for a better UI, is excited to once again participate in the 2020 Health Fair as your elected body that represent 7,800+ Non-bargaining Professional and Scientific, Merit Supervisory Exempt, and Confidential staff across the UI community!  We are here for you and offer many services and programs to support our constituents.  Staff Council Funding for Staff  and the Workplace Support Matrix, are just a few to mention.  We look forward to serving you!
UI Health Plans - The University of Iowa offers two medical plans: UIChoice and UISelect. Regular faculty and staff with at least a 50 percent appointment and their eligible dependents are able to enroll in these medical plans. Retirees may also enroll in these plans.
UI Safe - We have information regarding healthy hearing practices and hearing services offered at our student clinic.
University of Iowa Stead Family Children's Hospital – Each day 20 children die from unintentional injuries – resulting in more deaths than all other diseases combined. These types of injuries are preventable. Follow @uichildrens the week of November 16 to learn more about ways to prevent them.
Alcoholics Anonymous – Alcoholics Anonymous is an international fellowship of men and women who have had a drinking problem.  It is a nonprofessional, self-supporting, multiracial, apolitical, and available almost everywhere.  There are no age or education requirements. Membership is open to anyone who wants to do something about his or her drinking problem.
Alzheimer's Association – Our vision is a world without Alzheimer's and all other dementia.  Formed in 1980, the Alzheimer's Association is the leading voluntary health organization in Alzheimer's care, support, and research.
Big Brothers Big Sisters of Johnson County – Since 1904 Big Brothers Big Sisters of Johnson County has been enriching children's lives.  We match and support youth in a one-to-one relationship with caring adults to make a big difference for them and for the community.
Delta Dental – Delta Dental of Iowa offers several dental benefits plans, so you have the flexibility to choose the best one for you.
Girls on the Run – Using a fun, research-based curriculum that creatively integrates running, we inspire every girl to reach her limitless potential, not just for the length our program, but for life.
Iowa City Hospice – As a community-oriented nonprofit, Iowa City Hospice is dedicated to offering services to everyone, regardless of ability to pay.
Iowa Donor Network – As Iowa's sole organ procurement organization, we facilitate both organ and tissue recovery and serve as the state's primary contact for organ, tissue, and eye donation.
Iowa Lions Bank - Iowa Lions Eye Bank is an innovative leader providing quality tissue, education, research and support to those who serve the sight impaired.
Johnson County Public Health – The goals of this program are to prevent and contain infectious diseases through outbreak investigations, reportable disease follow-up and immunization promotion.  Program webpages include disease fact sheets, information for all ages on vaccination, daycare resources, healthcare provider resources, and disease prevention in schools.
Men's Anti-Violence Program –We provide free, confidential and trauma-informed services to anyone directly or indirectly impacted by sexual violence in Cedar, Des Moines, Henry, Iowa, Johnson, Lee, Washington, and Van Buren counties.  Anyone includes, but is not limited to, individuals of any age, gender, identity, culture, etc.  Sexual violence is nay sexual act committed against someone without that person's freely-given consent.
National Network of Libraries of Medicine Greater Midwest Region - The Network of the National Library of Medicine (NNLM) office for the Greater Midwest Region is located at Hardin Library for the Health Sciences at the University of Iowa. By collaborating, training, and funding over 1,100 health centers, health departments, community organizations, as well as medical, public, and school libraries in a 10-state region, the office supports the mission of the NNLM to advance the progress of medicine and improve public health through access to health information.
NormaLeah Ovarian Cancer Initiative – There are no screenings or widely-used early detection tests for ovarian cancer.  With more than 30 different types of ovarian cancer, it is challenging to detect and difficult to treat.  By arming yourself with knowledge of the symptoms, assessing your personal risk, and seeking the proper medical attention, you can have a positive impact on surviving this deadly disease.
Wellmark Blue Cross Blue Shield – We are passionate about being good stewards of your health care premium dollar.  We work continuously to minimize unnecessary costs to maximize coverage for our members.
Cancer Screening
https://uihc.org/health-topics/three-questions-ask-your-mammogram
https://uihc.org/health-topics/your-guide-colon-cancer-screening
COVID-19 Toolkit - Prepare yourself and your family by getting informed about the coronavirus and about what you can do to stay safe and healthy and help prevent the virus from spreading.
Epi Explains - Months of hunkering down at home and taking other prevention measures can feel frustrating. But you can enjoy the fall season and fall activities by simply avoiding three things: confined, closed spaces; close contact with others; and crowded spaces with little room for social distancing.
Flu Campaign - Getting a flu shot is easy, and it can help keep you and others around you safe and healthy. Get vaccinated for yourself, for your friends, and for your family. For location details and to schedule your flu shot online, visit uihc.org/flu-shot. 
The University provides free flu vaccines to faculty and staff. For more information on eligibility, locations, and instructions for free employee vaccines, visit hr.uiowa.edu/news/2020/09/free-flu-vaccinations-recommended.
MyChart Sign Up - When you use MyChart, the doctor is always in. Send a message to your doctor anytime. Request an appointment and have a telehealth video visit with a UI Health Care provider, all without leaving your easy chair. Refill your prescription, see your test results, and even check in for your appointment before you get to the doctor's office. MyChart lets you do all of these things and more on your smartphone, tablet, or computer.
Pharmacy
The UI Health Care pharmacies are here to help, with a 20 percent discount on many over-the-counter (OTC) products with the presentation of an employee badge (when possible) or validation in the university directory at checkout: https://medcom.uiowa.edu/theloop/news/staff-discount-at-ui-health-care-pharmacies-has-you-covered-this-flu-season
Did you know that it's free to have your prescriptions delivered to your home? Ordering is easy and can be done through MyChart or a phone call. Learn more. 
QuickCare - When same-day care needs arise, know where to find the right care at the right place. Watch Robert Linnell, PA, explain when to seek care at UI QuickCare, UI Urgent Care, or the emergency room: www.facebook.com/watch/?v=1197072527358099
UI Health Care–Cedar Rapids (411 10th Street SE) welcomes Jane Fischer, MD, and Sara Spiva, DO, who join Denise Peck, ARNP, to round out the newly expanded family medicine team. UI Health Care–Cedar Rapids is committed to delivering compassionate, high-quality care to each member of your family. 
UI Optical - UI employees and their dependents receive 15% discount on complete pairs of eyeglasses. UI Optical is having a sale throughout November. UI employees and their dependents receive a 20% discount on eyewear throughout the month. "Walk-in appointments are welcome and all current prescriptions are accepted.  Two convenient locations include Pomerantz Family Pavilion (Level 2 / Elevator L) and UI Health Care – Iowa River Landing (Level 2). Contact: Molly Bell – 319-384-9922 and uioptical@uiowa.edu
Refractive and Laser Vision Correction Surgery -UI Hospitals & Clinics offers a variety of refractive surgery options and now provides an employee discount for laser vision correction and LASIK.  Procedures offered at the UI Health Care – Iowa River Landing eye clinic location.
Video - https://www.youtube.com/watch?v=26bwCvGSap8&feature=emb_imp_woyt
Contact: Lisa Leavy – 319-353-7625 and lisa-leavy@uiowa.edu
UI Health Care STEM Education- has created a virtual library of resources including STEM activity sheets and videos about STEM concepts and health literacy, including videos on how to keep kids active at home.
Health Fair Prizes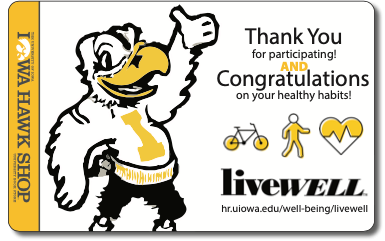 You will be automatically entered in drawings for IMU Bookstore Gift Cards if you have:
1. Completed your 2020 Personal Health Assessment   
AND
2. Registered for the three-week self-directed Living with Purpose Program designed to help you discover your purpose and engage in activities to practice more purposeful living. Program runs November 9-November 29, 2020.
Once you have done both of these you will be entered in drawings for one of dozens of $30 IMU Bookstore Gift Cards.
2020 Prize Winners:
Megan Adler, Remington Amelon, Kensington Appel, Laura Barber, Janice Barnes, Kimberly Beitz, Laura Bohrer, Deanna Brennan, Judith Brewer, Linda Block, Constance Cervantes, JoAnn Daehler-Miller, Nicholas Dreyer, Jessica Fick, Mary Grabe, Deanna Hebl, Denise Holida, Summer Jagnow, Carole Kern, Joseph Krob, Yalan Li, Amy Mattix, Nayeli Miranda, Katherine Noonan, Nicole Paulsen, Lori Quinn, Amy Schaffner, Mary Sleichter, Alyce Steig, Elsa Thomas, Katie Villhauer, Morgan Wolfe, Debra Yoder