CANCELLED 2020 HR & Business Conference
In order to protect the health and safety of our campus community and visitors, the conference planning committee and University leadership made the decision to cancel the 2020 HR & Business Conference that was to be held on April 9, 2020.  
Please know this was a difficult decision and we apologize for the inconvenience but felt it was important to make a decision as soon as possible. If you had already registered for the conference, your registration was cancelled.
We hope to be able to identify the date of the 2021 conference soon and will do our best to secure the same speakers for the conference next year. 
We have, however, continued with the nomination and selection process for the HR Leadership awards.
Please do not hesitate to contact the planning committee if you have questions.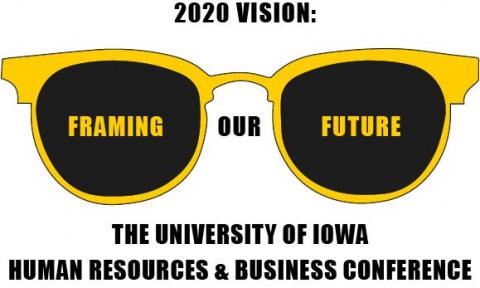 Welcome to the 2020 University of Iowa's HR and Business conference website! 
This one-day conference for University of Iowa employees, will feature keynote and breakout session speakers with content focused on strategies for maximizing organizational and personal effectiveness, employee engagement and creating a culture that embraces diversity, and equity and inclusion. 
The theme for this year is 2020 Vision: Framing Our Future. As a conference attendee, you will benefit from the insight and knowledge shared by several keynote speakers, multiple breakout speakers, and have the opportunity to network with your campus HR and Business colleagues.
This conference, sponsored by University Human Resources and the Office of the Chief Financial Officer, is a professional development opportunity for HR and Business professionals at the University of Iowa. Priority registration will go to those who currently serve in these roles.
To learn more, select the information tab at the top of this page. To register, click here. 
We hope to see you on April 9, 2020!
Karen Shemanski, Chair
2020 HR & Business Conference