Do you have an idea that could improve your workplace?
The See It and Solve It Awards were designed to empower staff to identify work process problems, especially those that cross work unit boundaries, to form collaborative teams to create and implement process-based solutions to the problems. 
When an effort is deemed exceptional in its use of the process improvement tools and its effectiveness in workplace improvement, it will be considered for the IOWA Award in addition to the Solve It Award. 
Both awards are designed to empower employees to create meaningful change in their workplace and to foster a culture of change and continuous process improvement throughout the University of Iowa community.
The Iowa Partners in Efficiency Award is the final award tier for process improvement projects. The State of Iowa award requires that project improvements measurably increase productivity and promote innovation to improve the delivery of public services.
See It
The Stage 1 award recognizes staff members who recognize an opportunity for improvement, research supporting information and successfully submit a case for change application.
Solve It
Stage 2 is for those that continue the improvement journey by forming a team and developing and implementing the improvement plan.
See It and Solve It Award Criteria and Application
What it is: An award for staff who identify work process problems and create/implement process based solutions. This award is for those people committed to completing the necessary research to create a business case for change. Ideas must be in alignment with the mission of the department and University. The applicant's role is to garner a root cause understanding of the problem through data collection and to create a business case for change. Your supervisors/manager may be able to assist in determining methods to present a viable business case for change.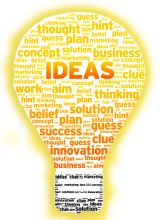 Resources are available to make you familiar with process improvement and the tools available to successfully accomplish the award requirements.
For questions on the See It and/or the Solve It award, contact oe-leader@uiowa.edu.
See It Award - Stage 1
The See It Award application can be submitted at any time.
All applicants that complete a submission that is determined by the Operations Excellence Committee to be a viable submission will receive a See It certificate of recognition.
The applicant will be recognized on this website and a letter will be sent to the area Director and HR Representative. 
See It Award Application - Stage I
Solve It Award - Stage 2
Completion of the See It Award - Stage 1 is required prior to submission of the Solve It Award - Stage 2
Upon successful completion of a process improvement project inclusive of supporting data for validation of the improvement a Solve It certificate of recognition will be sent to the applicant's supervisor.
Each application will be measured on specific criteria, such as: improved value to customers, clear outcomes that demonstrate measurable success, and elimination of waste.
Applications that meet the specific criteria will be recognized at the VP/Org level and receive a Solve It pin in a formal recognition ceremony. A photo will be taken and posted on the website along with the applicant's name and improvement project title.
Solve It Award Application - Stage 2
See It Solve It Award Committee
Applications are reviewed by the See It Solve It Award Committee, which may be available to coach teams in implementing plans and applying for the See It and Solve It Awards.