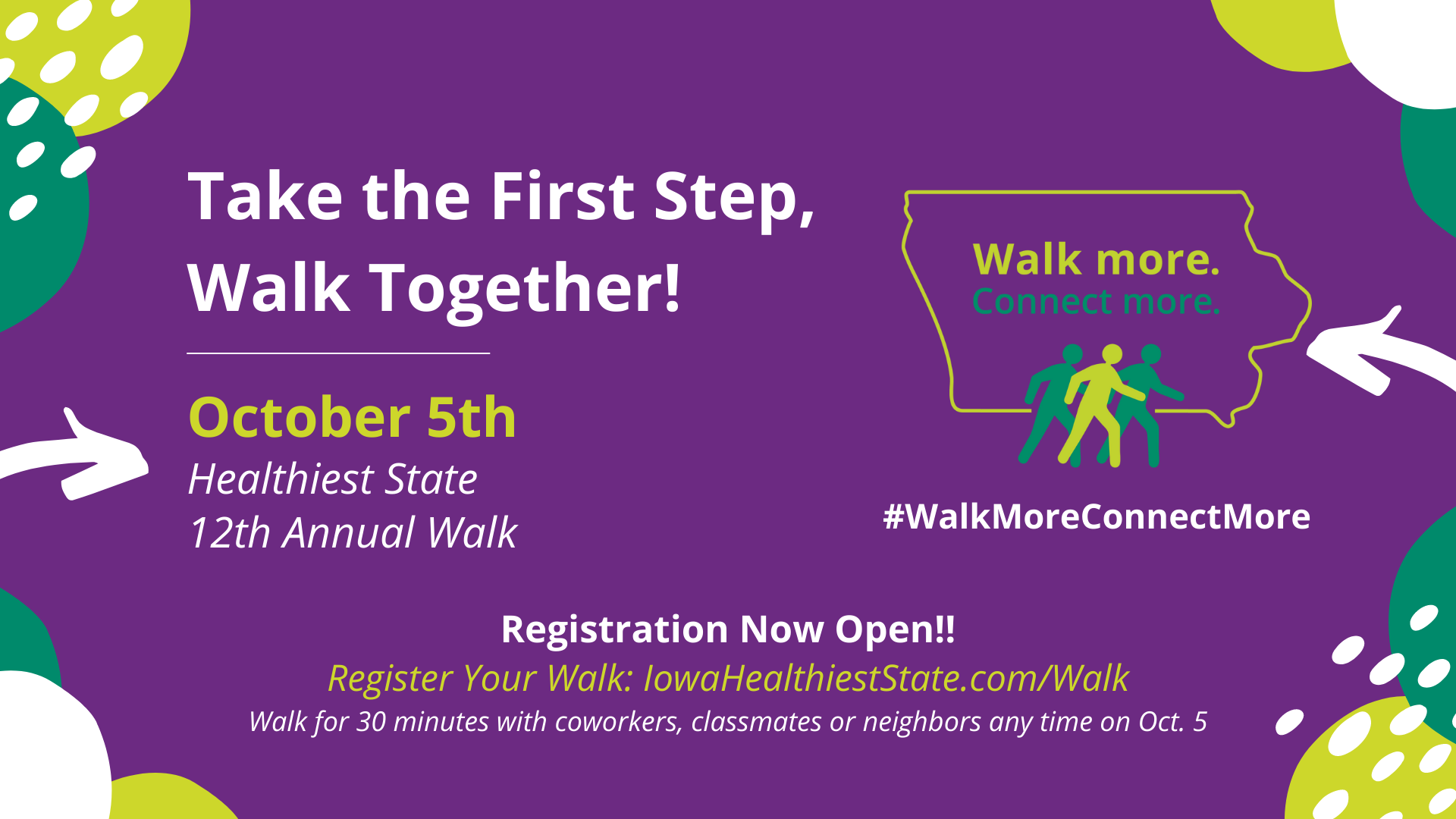 The Healthiest State Initiative's 12th Annual Walk encourages Iowans to walk for 30 minutes on Wednesday, October 5. The theme is "Walk More. Connect More." We know how important physical activity and social connection are to our physical and mental well-being. Going for a walk with friends, family, or coworkers helps address both. Walking can increase our energy, boost our mood, and it can provide opportunities for friendship, social cohesion, and supportive relationships for living a healthy lifestyle. 
WHEN: Wednesday, October 5, 2022 (Or anytime throughout the month of October!)
WHAT: Take a break and walk for 30 minutes.
WHO: Walk with your coworkers, friends, or family. 
How to Create a Walk or Register for an Existing Walk
Organize a walk for your department/coworkers and invite individuals to join your walk using the registration link provided once you create a walk. To identify UI walk groups on the map, use the following details to create your walk.
Walk Name: UI department
Organization Type: Worksite
Organization: University of Iowa
liveWELL Points and Prizes
Bonus Code Points: From October 1-31, log into My LiveWELL Portal at Employee Self-Service, Benefits and Wellness and submit the bonus code WalkMoreConnectMore to earn 100 bonus points for participating in the walk AND a chance to receive one of three $30 University of Iowa Hawk Shop gift cards.
Social Media Challenge: Take a photo of you and your group on your walk and share on Facebook or Twitter. Tag liveWELL @UIowaliveWELL and use the hashtag #WalkMoreConnectMore in your post to have a chance to win a resistance band set from liveWELL.