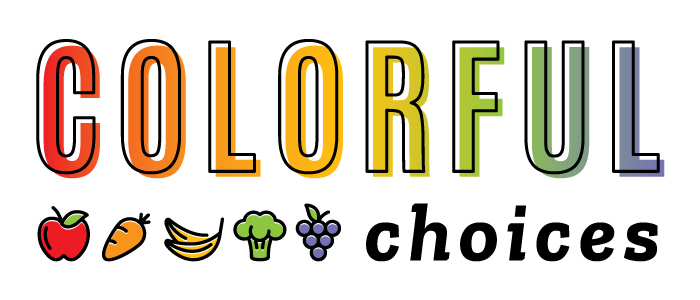 Join liveWELL this spring for Colorful Choices, a simple four-week nutrition program that runs from April 12 - May 9, 2021. No measuring or calorie counting, just tracking your fruit and vegetable intake. Eating a variety of fruits and vegetables of all different colors is important for physical health, immunity, stress management, and boosting energy.
How do I participate?
Track your daily fruit and veggie intake on the Colorful Choices tracking sheet.
Aim for 4-5 cups each day. Circle the cups from each color and record your total at the end of the day. You can also track your fruit and veggie intake using popular apps such as MyFitnessPal.
Receive weekly emails with tips and resources for eating more fruits and veggies, buying on a budget, veggie filled recipes, and more. 
Submit the weekly Bonus Code to earn liveWELL Points
What counts as a cup of fruit or veggies?
1 cup chopped raw or cooked vegetables
2 cups raw leafy greens such as spinach, kale, romaine or dark green leafy lettuce, watercress, or endive
12 baby carrots
2 celery stalks (11" to 12" long)
1 cup fresh or frozen cut up fruit
1 small apple (2 ¼" diameter) or large orange or peach
1/2 cup dried fruit
32 seedless grapes
1 banana (8" to 9" long) 

Find more examples of fruit and veggie "cup" equivalents at USDA MyPlate.
Week One
Simple breakfast hacks for rushed mornings:
This first week we are focusing on new ways to add more fruits and vegetables into breakfast. Incorporating fruits and veggies into your morning gives you a boost of energy and starts your day on the right foot.
Week Two
Lunch Options
This week we are focusing on fun and convenient ways to add fruits and vegetables to everyday lunches. Eating more fruits and vegetables for lunch helps avoid the mid-day crash and will keep you satisfied longer.  
Week Three
Delicious Dinner
This week our focus is on incorporating fruits and vegetables into dinners that all family members will enjoy – even the picky eaters! Vegetables can be easily added or substituted into any delicious dinner.
Colorful Choices Week Four
In our final week of Colorful Choices, we will focus on simple and satisfying fruit and veggie snack options. Having fruits and vegetables prepped and accessible is important for eating 4-5 servings a day.