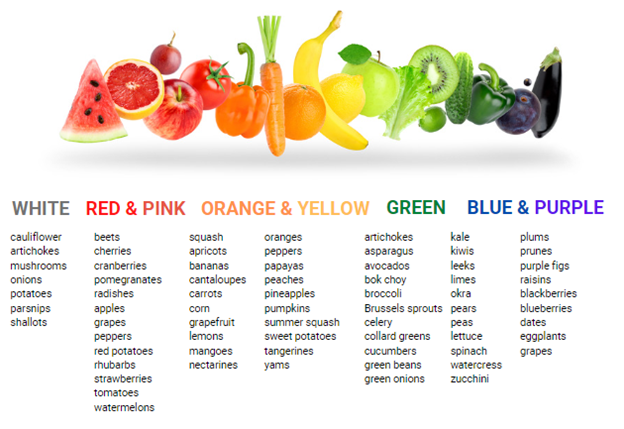 Work up to a goal of 5 servings of fruits and vegetables (combined) each day in a variety of colors for 20 days. If you eat 5 servings each day that's 100 servings total! Not currently getting 5 servings each day? That's okay! Start where you are and build your progress throughout the challenge. Download the Colorful Choices tracking sheet using the link below, and track your fruit and veggie intake each day. Circle the number of servings from each color and record your total at the end of the day.
What counts as a SERVING?
FRUIT
1 cup cut-up, fresh or frozen fruit
1 small round fresh fruit (the size of a baseball or tennis ball)
1/4 cup dried fruit
3/4 cup (6 ounces) juice
15 grapes or cherries
1 banana (8" to 9" long)
2 small fruits such as clementines, kiwi, plums
VEGETABLES
1 cup cup-up raw, fresh, or frozen vegetables
2 cups raw leafy greens such as spinach, kale, or lettuce
12 baby carrots
2 celery stalks (11" to 12" long)
Find more examples here!
How do I ADD MORE servings of fruits and vegetables?
Tips for Eating Fruits and Vegetables
Explore different fruit and vegetable options to choose from
Find recipes that focus on colorful fruits and vegetables
Incorporate a serving into breakfast with a delicious smoothie or vegetable omelet
Double the amount of vegetables called for in a recipe
Bring cut up vegetables or a piece of fruit for a snack
Health Coach Melanie's veggie tip: Add leafy greens to your meal as the base layer. Having roasted veggies? Pile onto greens. Having chicken and brown rice? Pile onto greens!
More Resources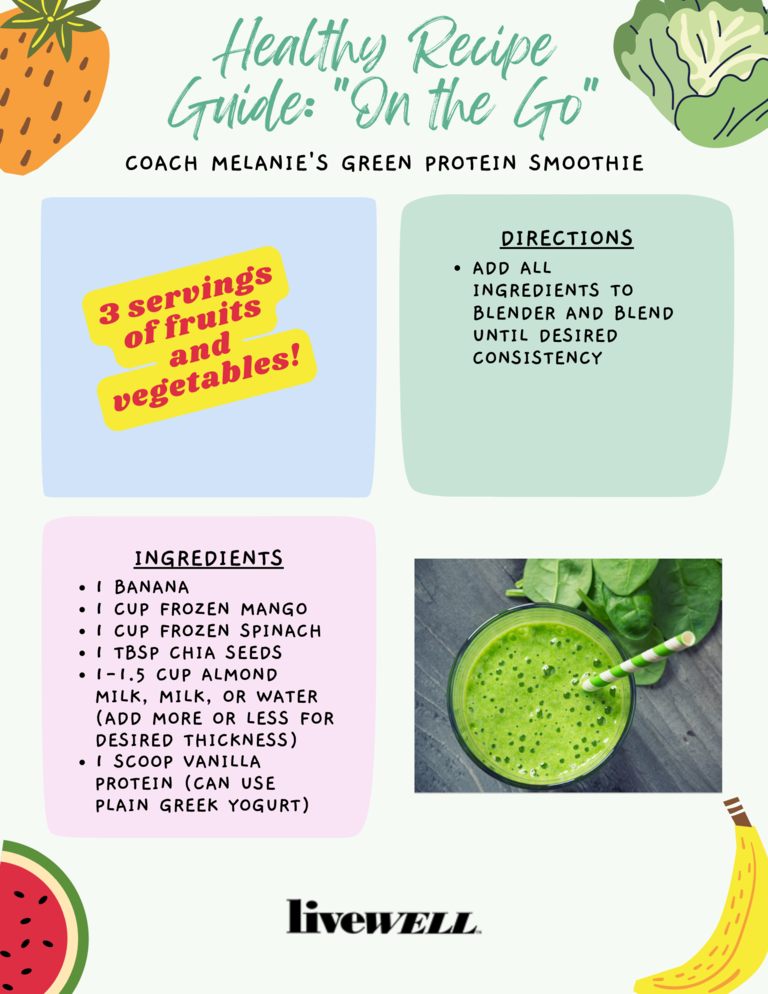 Submit the weekly Bonus Code at Employee Self-Service, Benefits and Wellness, My liveWELL Portal to earn liveWELL points!
Week 1 bonus code: 5 servings