Medical Education and Research Facility to Pomerantz Family Pavilion (Elevator L)
Total Distance: 3,100 feet or about .6 miles (one way)
Shorter Route: Carver Biomedical Research Building to General Hospital = 1,680 feet or about .31 miles (one way)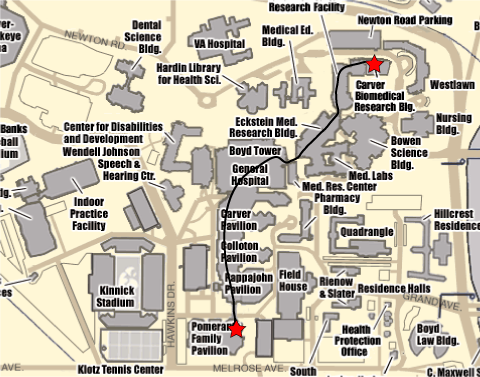 Walking Directions
Enter the Medical Education and Research Facility (MERF) from Newton Road.
Start walking on 2nd floor.
Landmarks as you walk
Roland and Ruby Holden Cancer Research Lab 
Urmila SahaiSeminar Room 
Eckstein Medical Research Building
Medical Labs 
Medical Research Center 
General Hospital entrance
Floor compass at Elevator B (turn left) 
Elevator Distances
To view a map of UI Hospitals and Clinics elevator locations, visit the Parking and Wayfinding website.
A to B = 110 feet or .02 miles
B to C = 180 feet or .032 miles
C to E = 301 feet or .057 miles
E to F = 69 feet or .01 miles
H to I = 220 feet or .041 miles
I to L = 460 feet or .087 miles
Total Distance from Elevator A to L = 1,600 feet or .3 miles (one way)
Hospital Ramp 3 Skywalk
5 lengths = 1 mile
Start at the top of the escalator in the main entrance and walk to escalator in Ramp 3.