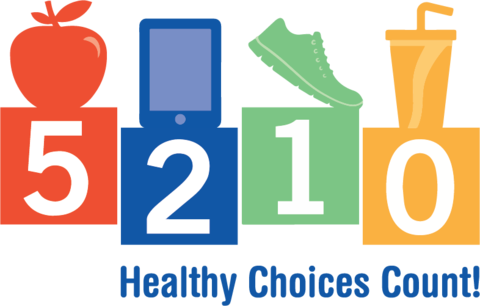 Social distancing measures, put in place due to the COVID-19 outbreak, means that many of us are suddenly working from home for an indefinite amount of time. Similarly, partners in health care, health care support roles or public safety are called upon to continue to work but under different stressors. This can be a difficult adjustment that could impact our health and wellness as well as our work productivity.
As we face these challenges, it's still important to prioritize our physical, mental, and emotional health by practicing healthy habits at home or at work for you and your entire family unit.
4-Week Wellness Challenge
April 13-May 10, 2020
Looking to improve your healthy habits? 5-2-1-0 Healthy Choices Count is a four-week wellness challenge powered by the Iowa Healthiest State Initiative that encourages Iowans to practice behaviors that support healthy eating and an active lifestyle. It is centered around the common message of 5-2-1-0:
5 or more fruits or vegetables
2 hours or less of recreational screen time
1 hour or more of physical activity
0 sugary drinks – drink more water!
Invite your family to participate with you. Take these small steps to eat well, move more, and feel better.
How it Works
Register for 5-2-1-0 Healthy Choices Count at Employee Self-Service > Benefits & Wellness > My LiveWELL Portal.
Download the 5-2-1-0 Healthy Choices Count Weekly Tracker.
Each week, track one or more of your healthy habits on the 5-2-1-0 Healthy Choices Count Weekly Tracker.
Receive a weekly email with helpful tips and a BONUS CODE for 50 liveWELL Points. 
| Week 1: April 13-19 | Week 2: April 20-26 | Week 3: Apr 27-May 3 | Week 4: May 4-10 |
| --- | --- | --- | --- |
| Track your servings of fruits and vegetables. Look for easy ways to add more to your day. | Track your minutes of recreational screen time. Set screen time limits for the whole family.  | Track your minutes of physical activity. Go for a walk using local maps or take the stairs. | Track your sugary drink consumption. Fill up your water bottle instead of a sugary drink. |