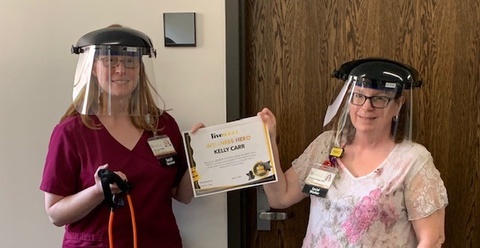 Wellness Heroes is a program to recognize faculty and staff members who are practicing healthy behaviors that are inspiring to others in the workplace. Wellness Heroes are nominated because they are contributing to a culture of health and well-being at the University of Iowa.
Awards
A Wellness Hero inspires those around them to be healthier. To acknowledge their efforts, a Wellness Hero will be awarded a certificate, a Wellness Hero prize, and be highlighted in the quarterly liveWELL newsletter.
Eligibility
Any faculty or staff member can nominate any other faculty or staff member. 
A nominated person must meet the following criteria:
Make a positive impact in health and wellness in their workplace through a demonstrated behavior or attitude 
Be a UI employee
Nomination Process
The Wellness Hero Nomination Form is located within Workflow. Enter your HawkID and password to complete the form.
You will be contacted within 10 business days to discuss your nomination.
Once approved, a certificate and prize will be issued from liveWELL. It is up to the person/department nominating the Wellness Hero to determine how to recognize the Wellness Hero. Opportunities to recognize Wellness Heroes could include staff meetings, lunch breaks, staff retreats, an on-the-spot celebration, or other activities.