We can all use a recharge sometimes. A health coach is a free, confidential, non-judgmental partner who can help you focus on what is within your control. Learn to make simple and sustainable changes, overcome obstacles, and create strategies to maintain a healthy lifestyle.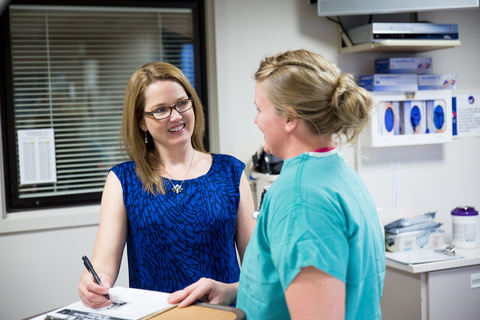 Typical health coaching focus areas include energy, nutrition, exercise, and stress management. Work with a coach to:
Develop your personal approach to well-being
Set and meet goals
Build lasting skills toward optimal wellness
Small Changes, Big Results
Health Coaching Success Stories
Brett Cloyd Recalls His Experience with Health Coaching
Brett Cloyd worked with health coach Carla Melby over ten years ago. He sat down with us to encourage his fellow UI employees to make use of this beneficial service.
How to Participate in Health Coaching
Reasons to work with a Health Coach
Increase your energy
Make meaningful change
Avoid burnout
Get support toward a specific health goal
Locations:
Campus Recreation and Wellness Center (CRWC) 
UIHC Employee Health Clinic
Remote: Zoom, Teams, Skype, phone, or email
Eligibility:
University of Iowa regular employees employed at 50 percent time or greater (including house staff) are eligible for free health coaching. 

UI employees have access to five, free health coaching visits every twelve months. 
Frequently Asked Questions about Health Coaching
Answer
At this time, liveWELL programs are only open to faculty and staff.
Answer
At this time, liveWELL programs are open to current faculty and staff only.
Answer
With your consent, the information from the Personal Health Assessment and any referrals to a Health Coach or other liveWELL programs will be communicated directly to your health care provider. These programs are designed to work collaboratively with your health care provider and offer you resources that may be beneficial to your health. However, no communication will occur without your written consent.
Answer
Working with a Health Coach can help you:
Increase your energy
Improve your ability to respond to change
Gain new ideas for improved nutrition, sleep, physical activity, and weight management
Establish accountability for making health changes
Answer
No. Your participation in the Personal Health Assessment and any other wellness programs is completely voluntary and you will not see any changes to your health insurance premiums.
The university's health plans are considered self-insured, which means the university is responsible for the costs of the claims incurred. We hope that one benefit of liveWELL programs is a reduction in health care claims from health plan participants, and a measurable savings to the university health plans. Information is not shared with Wellmark. Limited UI Wellness staff will have administrative access to individual and aggregate information.
Answer
You may complete the Personal Health Assessment during work time if your workload allows. It should take 15-20 minutes to complete.
Meetings with a Health Coach must be done on non-work time or by receiving permission from your supervisor. The same is true for participation in any subsequent liveWELL programs. If you are unable to participate on work time, you can use vacation time to participate.
Health Coach staff are available from 7:30-7:30 p.m. on most days of the week and at two campus locations, or via phone, email, Zoom, Teams, or Skype.