Laura Mantovani has been with the University of Iowa since August of 2021, working for the Environmental Health and Safety department as an Environmental Safety Coordinator. When Laura started that position, she also made the decision to devote more time to her own well-being. A key starting point in this journey was avoiding the comparison trap which can easily bring about envy and self-harm. When moving towards a healthier life, Laura knew she wanted to focus on her happiness.  
Laura saw remarkable success by highlighting the habits that were most important to her. She used a habit tracker to list out those habits, placed them on her refrigerator, and worked to track those habits every day. Some of those included reading a book for 10 minutes, making sure to refill her water four times a day, and practicing gratitude. Movement, and specifically morning movement, has been another key to her success. What has really worked for her is scheduling 30 minutes every morning for movement. Some days she visits a gym, and other days she does yoga at home. Laura noticed, "that it is refreshing to accomplish something to start her day and helps set the tone for her day." 
When Laura started to take measures towards living a healthier, happier life, she wanted someone outside of her family to help with accountability and consistency. She has found health coaching at the University of Iowa to be a place to get just that without criticism, judgment, or unwanted advice. Laura knew she would not struggle getting started, but instead, staying consistent with her new habits. Life is ever changing, and some habits have had to be adjusted, but Laura has been consistently practicing her habits for three solid months since starting with Jacob Frederick, a liveWELL health coach. Laura has also noticed the following amazing changes: 
Improved mental health and mood (less grouchy and angry) 

Feels strong and less tired throughout the day 
Blood pressure has dropped to a normal level 

Relationship with partner has improved 
Here is some advice from Laura if someone is considering working towards improving their own well-being or wanting to work with a health coach through the liveWELL program: 
"Starting something new requires effort, persistence, and motivation which can sound scary. You might also feel like you do not have any time or the skills to be successful. A health coach will help you to achieve positive change, help you determine the best way to stay on track with your short- and/or long-term goals/ habits, and offer resources and guidance that help relieve stress and anxiety."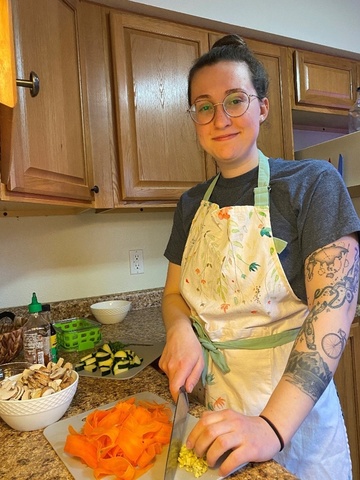 Request a health coaching appointment online or contact liveWELL directly at livewell@uiowa.edu or 319-353-2973. Appointments are offered at the Campus Recreation and Wellness Center, University Employee Health Clinic (1st Floor Boyd Tower), or via Zoom or Skype.