Career development is the overlap of the organization's needs with the individual employee's career interests. It can also be described as an ongoing process of gaining knowledge and improving skills that allows an employee, when in alignment with the organization's needs and individual career interests, the opportunity to advance their career.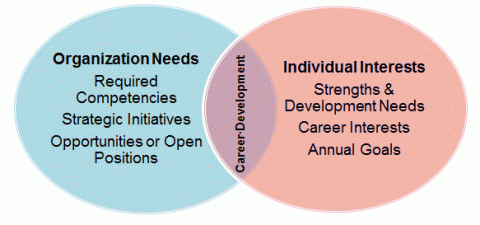 The graphic illustrates that when the needs of the unit overlap with the individual's interests, career development plans and goals can be developed. The organization's needs may arise from new competencies needed in the workplace, new strategic initiatives or other opportunities to fill emerging roles or open positions. Individual career interest may be identified through the person's strengths and development needs, long term career interests or annual goals for professional development.
The key areas of responsibility (KAR's) defining the job classifications and the competencies that are necessary to carry out these responsibilities will help individuals and their supervisors in setting goals and planning for career development to meet the needs of the unit.
The pay practices will also support career development by providing the opportunity for salary adjustments to recognize significant changes in responsibility, whether or not the change is sufficient to justify new classification assignment via promotion or career shift.
Frequently Asked Questions
Answer
UI Employee Career Development Advising is a free and confidential service to help permanent employees achieve their personal career development goals within the University of Iowa. UI students are encouraged to contact the career services office of the college they are attending for assistance with career development.
Answer
If you can document changes in your job and your supervisor agrees, you can be considered for either a promotion or a career shift to another classification. This does not guarantee a change in classification, but it would be the way to receive consideration for your request. The documents and instructions are located on the Career Development Planning website created by Compensation and Classification.
Answer
A career development tool is available for you and your supervisor to document your career growth and job changes. This document can then be used to support pay adjustments and classification changes, when appropriate. The documents and instructions are located on the Career Development Planning website created by Compensation and Classification
Answer
Talk with your supervisor about your career interests, and identify ways you can expand your responsibilities in your existing job to meet the needs of your unit. You might also identify goals to develop competencies (knowledge, skills and abilities) that will prepare you for other jobs at the University. To be recognized in your current job, your career development goals need to be agreed upon with your supervisor and be in alignment with unit needs. It would also be useful to discuss what degree of change would be needed in order to support a salary increase, a career advancement increase or promotion/ career shift resulting in a new classification.
Answer
Each position has a different set of skill that are needed to be successful. Learning and Development offers a number of resources to help enhance your skills for career development.
Answer
The most important factor is that the employee is performing work outside of their current classification on a regular and ongoing basis.
Answer
The most common distinction between a professional and non-professional position is that the professional position requires knowledge and education beyond that of a high school graduate. A 4-year college degree or an equivalent combination of education and experience is typically required for a P&S position. In order to classify a position as P&S, a minimum of 50% of the duties and responsibilities must be at the professional level. We are governed by the Fair Labor Standards Act (FLSA), which is a law created for fair treatment in wages for employees. Some P&S positions are covered under the Act even though they are considered professional in the University system. The majority of P&S employees are exempt from this law. Those that are covered under the act are eligible for overtime benefits. All Merit employees are covered under the Act.
Answer
We encourage potential employees to apply for any position that may be of interest to them, whether it's P&S or Merit. There are many Merit employees who have a college degree and there are many former Merit employees who now have P&S positions.
Answer
There are two ways to enter into a P&S classification. The most common way is to apply for an open position. Any employee who meets the minimum requirements that are listed in the requisition is eligible to apply. An employee may also be in a position that has evolved to the extent that it is more appropriately classified as a P&S position. When that occurs, the employee or department may submit a reclassification request. Whatever means are used to enter into a P&S classification, the development of knowledge, skills and abilities is important for current and future employment opportunities.
Answer
Supervisory experience can only be attained in a supervisory position. There are no classes or seminars that are the equivalent of supervisory experience. An employee may be in a classification (i.e. Project Assistant) that does not require supervision but the specific position does have that requirement. If the employee meets the basic requirements for the classification, they are eligible for that position.