University Human Resources is committed to developing and providing programs and services that support the mission and values of the University of Iowa.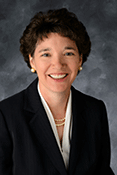 University Human Resources is responsible primarily for programs and policies that attract, develop, and retain qualified staff, and for providing programming which enhances the well-being and effectiveness of the University community. To consistently meet the changing needs of our many customers, University Human Resources is dedicated to continuous improvement and innovation.
We welcome your feedback and ideas regarding opportunities to improve efficiency, simplify processes, increase productivity, and raise quality.

Cheryl Reardon
Chief HR Officer & Associate Vice President     
cheryl-reardon@uiowa.edu
319-467-1898
COVID-19 Pay Practices
Pay practices and leave options for the spring 2020 semester.
UHR Organizational Chart
An overview of University Human Resources units and structure.