Upcoming Programs
Registration for these programs are available now! Sign up to reserve your spot.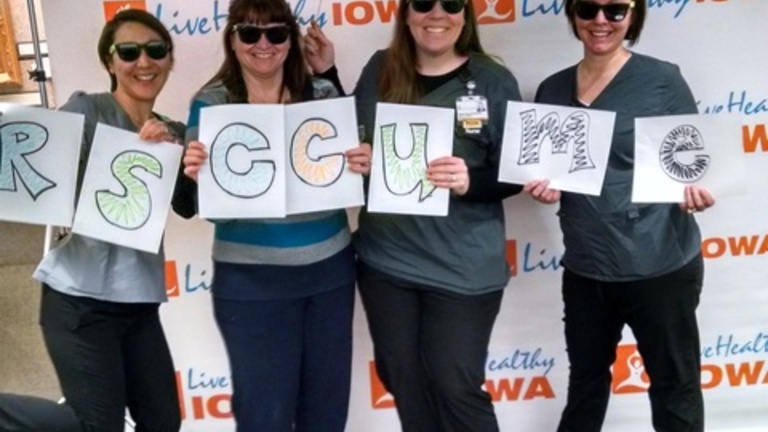 Grab a team of 2-10 coworkers and track your minutes of physical activity from January 8 - March 15, 2024. Collaborate with your team to find inspiration and create a mindset for success. Set personal and team goals for physical activity. You can do it!
On-going Programs
Access these well-being programs and resources throughout the year. 
10-minute online heath questionnaire that provides a tailored report for your well-being and links to UI and national resources.
Recharge+ is a digital program that you can complete anytime anywhere to help you build skills to buffer stress, navigate challenging situations, and enhance your well-being. Sign up for tailored text messages to receive tips to reset your purpose, rethink your mindset, and reconnect with others.
A Health Coach is a free, confidential, non-judgmental, and motivational resource for you to achieve the best version of yourself.
Receive a 50 percent incentive towards your campus recreation membership for participating annually in the Personal Health Assessment and using a campus recreation facility at least four times per month. A recreation membership includes access to five campus fitness facilities, three indoor tracks, two swimming pools, and over 70 group fitness classes per week!
Tools to help you infuse well-being into the day to day work of your department.
Wellness Ambassadors: Wellness Ambassadors act as liaisons between their departments and UI Wellness. Wellness Ambassadors play a vital role in supporting liveWELL's mission to promote lifestyle improvements that support good health and improve quality of life.

Wellness Grants: University of Iowa departments can request funding to implement a health and wellness-related initiative or event at the local level.
Wellness Heroes: Wellness Heroes is a recognition program for individual faculty or staff members who inspire others with their behaviors or attitudes around wellness. Nominate a co-worker and they will receive a Wellness Hero recognition award from liveWELL. 
My liveWELL Portal is your home for liveWELL in Employee Self Service. Access your Personal Health Assessment and Recharge+, earn wellness points for a variety of activities and healthy behaviors. Spend wellness points in the Wellness Store on health and wellness items, Hawkeye merchandise, and more!