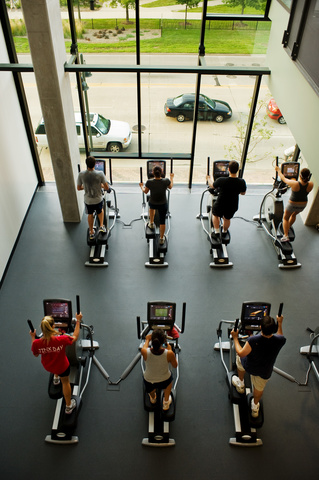 UI employees have the opportunity to earn an incentive worth 50 percent of their monthly recreation membership fee (monthly membership = $39/month; incentive = $19.50/month) by participating in the liveWELL Personal Health Assessment (PHA) survey and using campus recreation facilities at least four times per month. Visit the Recreational Services website for information on facilities, member services, and fitness programs/classes. 
Eligibility
Active faculty/staff in 50 percent or greater regular positions (UI Hospitals and Clinics house staff and postdoctoral research scholars are included)
Complete the PHA one time annually (each calendar year beginning January 1 or past 90 days)
Facility utilization of at least four times per month 
Get Started
A faculty/staff member begins by initiating the membership application process with Recreational Services. Memberships can be obtained at the Campus Recreation and Wellness Center, Field House, and the Hawkeye Tennis and Recreation Complex.
Recreational Services requires a one-time $39 set-up fee. This fee is the sole responsibility of the faculty/staff member and is not included in the annual membership and membership incentive.
The faculty/staff member must authorize monthly payroll deduction as the payment method.
First month: $39 set-up fee payroll deduction (responsibility of faculty/staff member)
Second month and every month thereafter until membership is canceled: Payroll deduction for regular, monthly membership fee
Third month and every month thereafter until membership is canceled: Incentive payment for membership fee at $19.50 per month (before tax). The incentive appears in the "Earnings" portion of your paycheck.

Use facilities a minimum of four times per month to receive the incentive.
Facility use is tracked each time your scan your valid university ID at one of the membership desks.
Note: There will be a one-month time lag on the incentive (i.e. February visits will be used to determine the April 1 paycheck incentive, March visits will be used to determine the May 1 paycheck incentive, etc.). If you need information about your facilities usage records, please call Recreational Services at 319-335-9293.
The Incentive Payment is considered taxable Income and will be reflected on your monthly payroll statement. 
To complete your Personal Health Assessment or to check on when you last completed it, visit Employee Self Service.
Frequently Asked Questions About Recreation Membership Incentives
Answer
The membership incentive to university recreation facilities is for faculty and staff in regular half-time or greater positions, including UI Health Care house staff and postdoctoral research scholars. Eligible faculty and staff will be required to take the Personal Health Assessment one time annually (beginning January 1) to qualify.
Incentive recipients must visit recreation facilities at least four times each month to keep receiving the incentive.
Note: Postdoctoral research scholars do not have access to the Personal Health Assessment, so their only requirement is to visit recreation racilities four or more times per month.
Answer
Yes, the membership incentive will remain at 50 percent of a single membership, and the remaining balance will be paid via a monthly payroll deduction.
Answer
The Field House, Hawkeye Tennis and Recreation Complex, and the Campus Recreation and Wellness Center all have membership services areas where you can sign up.
Answer
At this time, liveWELL programs are open to current faculty and staff only.
Answer
If you are enrolled as a University of Iowa student, please review your student fee coverage for Recreational Services. You can contact Recreational Services directly at 319-335-9293.
Answer
The University of Iowa is committed to a healthy campus culture for all UI community members. Exercise has health benefits and helps to reduce health risks associated with inactivity.
Answer
Working with a Health Coach can help you:
Increase your energy
Improve your ability to respond to change
Gain new ideas for improved nutrition, sleep, physical activity, and weight management
Establish accountability for making health changes
Answer
You may complete the Personal Health Assessment during work time, as your schedule and workload allow. It should take 10-15 minutes to complete.
Other programs such as the Health Coach Service, using campus recreational facilities, or participating web-based programs at My liveWELL Portal may be done on non-work time or by receiving permission from your supervisor. The same is true for participation in any subsequent or referral programs. If you are unable to participate on work time, you can use vacation time to participate.
For your convenience, Health Coach staff are available 7:30 a.m.-7:30 p.m. on most days of the week and at two campus locations, or via phone, email, Zoom, Teams, or Skype.
Answer
Yes, to keep receiving the Recreation Membership Incentive, you must use UI recreation facilities four times per month. Facility use will be tracked by the number of times your ID is scanned at the membership desk of any facility. You can see how many visits you have logged during a month by registering for online services at the Recreational Services website.  Note:  There will be a one-month time lag on the incentive  (i.e., February visits will be used to determine the April 1 paycheck incentive, March visits will be used to determine the May 1 paycheck incentive, etc.)