Maggie Moore, M.S.W., LISW
Maggie (Betty Marguerite) Moore is a licensed independent social worker who received her graduate degree from the University of Illinois, Urbana-Champaign in 1983 with dual concentrations in clinical mental health and policy, planning and administration. Since that time, she has worked in a variety of settings including the UI Department of Psychiatry and the Employee Assistance Program. Maggie also is an adjunct instructor in the Carver College of Medicine's Department of Psychiatry and provides ongoing psychotherapy supervision to child psychiatry fellows as well as family therapy coursework for first and second year child fellows. She is experienced in working with a broad range of populations and sees individuals, couples and families. Maggie is trained in a variety of treatment modalities, with special emphasis on cognitive behavioral, brief, and family therapy, assessing and treating people who are experiencing anxiety, depression, grief, eating disorders, marital discord, or work stress. She is an active member of the National Association of Social Workers.
Bronwyn Threlkeld-Wiegand, M.S.W., LISW
Bronwyn has a bachelor's degree in music therapy from the University of Iowa and a master's degree in social work from the University of Texas at Austin. She has over 20 years of experience providing counseling/therapy to individuals (kids/teens, adults) and families. She has worked at the University of Iowa Hospitals and Clinics in inpatient child psychiatry and the partial-hospital program for eating disorders, in the school system, and in private practice. Bronwyn has a strong interest in cognitive behavioral therapy which helps people to look at how their thoughts affect moods and behavior. Bronwyn sees individuals, couples, children and families.
Sandy Healey, LISW, CACD
"I believe that one primary role for a counselor is to hold on to hope when you believe there is no hope and to help people find strength and courage in times of vulnerability. When people consider seeking out a therapist to talk about what is bothering them or with what may be going on in their lives, often it is because they have begun to feel lost, or alone, or confused. And also when facing hard things like divorce, death of a loved one, addiction, trouble at work, difficulty sleeping and constant worry. Life is and can be quite hard. You don't have to walk through it alone.
In my career I have worked with people struggling with addiction, grief, divorce, anxiety, depression, trauma, legal problems and criminal histories, behavioral concerns, family and relationship issues, and low self-esteem. My therapy includes Cognitive Behavioral Therapy (CBT), Dialectical Behavioral Therapy (DBT), Seeking Safety (trauma & addiction), Motivational Interviewing, mindfulness and meditation. If you are experiencing any of the above concerns my hope is that we can sit together in a safe place and we can work to find a solution together."
Licensed Independent Social Worker, licensed to practice in the state of Iowa. International Advanced Alcohol and Drug counselor (IAADC), certified to practice in the state of Iowa. Master of Social Work from Western Michigan University. Bachelor of Science in Social Work from Iowa State University.
Carman Walsh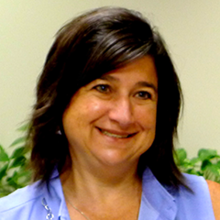 Carman started her career at the University of Iowa in August 2000, working at the College of Engineering Department of Mechanical Engineering. She also has worked in the College of Public Health Institute for Quality Health Care and Institute for Public Health Practice.
Carman is the secretary for the Employee Assistance Program, where staffs the front desk and schedules EAP appointments. She also serves as secretary to EAP's director and counselors.