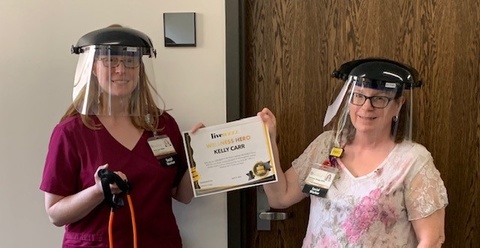 Wellness Heroes is a program to recognize faculty and staff members who are practicing healthy behaviors that are inspiring to others in the workplace. Wellness Heroes are nominated because they are contributing to a culture of health and well-being at the University of Iowa.
Awards
A Wellness Hero inspires those around them to be healthier. To acknowledge their efforts, a Wellness Hero will be awarded a certificate, a Wellness Hero prize, and be highlighted in the quarterly liveWELL newsletter.
Eligibility
Any faculty or staff member can nominate any other faculty or staff member. 
A nominated person must meet the following criteria:
Make a positive impact in health and wellness in their workplace through a demonstrated behavior or attitude 
Be a UI employee
Nomination Process
The Wellness Hero Nomination Form is located within Workflow. Enter your HawkID and password to complete the form.
You will be contacted within 10 business days to discuss your nomination.
Once approved, a certificate and prize will be issued from liveWELL. It is up to the person/department nominating the Wellness Hero to determine how to recognize the Wellness Hero. Opportunities to recognize Wellness Heroes could include staff meetings, lunch breaks, staff retreats, an on-the-spot celebration, or other activities.
Wellness Heroes Across the UI Campus
Austin Kannegieter, Nursing Manager, UIHC Nursing Services
Nominated by Kipton Pedersen
"Austin is the Nurse Manager in our MICU and is a shining example of being a positive leader during a pandemic. No one has had it harder than the MICU staff and Austin has done an amazing job leading this group and making sure they feel supported during a challenging time."
Tera Kringle, Patient Experience Coach, Patient Representatives
Nominated by Abigail LaBarge
"Tera makes a point to walk on most of her lunch breaks and always brings in a healthy breakfast and lunch. She also has a great work and home life balance."
Jessica Murry, Admin Services Specialist, Assoc VP Market & Comm
Nominated by Aubry Lyon
"Jessica is an encourager of healthy habits. We have recently started going on short walks to get outside, enjoy the weather and get steps in. This is an activity that was generated by Jessica. Whether needing accountability for workouts, eating healthy, or having a healthy mindset, Jessica is always there and I am so appreciative of that!"
Abigail Dickson, Support Service Specialist, Patient Representatives
Nominated by Alexander Nance
"Abby is a Wellness Hero because she brings her positive attitude and a 'can-do' spirit with her to work every day. Despite the stresses that come with being a Patient Relations Specialist, Abby's positive outlook, sense of humor, and genuine caring personality make her a role model for wellness in our department. She helps elevate our team's overall wellness as a result. Cheers and thanks for all you do, Abby!"
Heidi Zahner-Younts, Org Consultant & Leadership Coach, Organizational Development
Nominated by Sara Hoffman
"Heidi is one of the most positive, encouraging, and lovely people I've ever had the pleasure of working with. A big part of wellness for me is surrounding myself with people who bring a positive energy to the workplace, that way I can remain motivated and inspired. Heidi is someone who brings so much joy and inspiration to a workday and I would be honored to call her a Wellness Hero!"
Hilary Humphrey, Admin Services Specialist, Internal Medicine
Nominated by Sam Mitchell
"Hilary is one of the most genuine and caring colleagues. She is great at her job and exceptional at taking the time to make people feel cared for and listened to. She always remembers small details that are shared in conversation and makes a point of asking about those things when you interact. Her friendly nature makes work a warm and welcoming place to be."
Dan Mears, Support Services Specialist, Guest Services
Nominated by Sheri Austin
"Dan is the SFCH Guest Services Concierge. Every day on his lunch break he walks up the stairs to Level 12 then back down. Great exercise!"
Mary Dole-Ritter, Staff Nurse, UIHC Nursing Services
Nominated by Kari Murphy
"Mary is the definition of a Wellness Hero. She bikes to work daily even when it's cold and windy! She inspires me to want to be healthier daily with her healthy choices!"
Brett Cloyd, Social Sciences & Public Policy Librarian, Libr-HSS/Scholarly Impact
Nominated by Cathy Cranston
"Brett makes it a point to get up and get moving throughout the workday. His short but regular daily walks demonstrate that he takes his health to heart. During our "working from home" era in the past year, because we're neighbors, I would often see Brett stick with this daily habit and continue to get fresh air, a fresh perspective, and set a good example for his family and friends. He keeps himself motivated and moving!"
Courtenay Villhauer, HR Generalist, Finance & University Serv
Nominated by Lori Berger
"Courtenay exudes a positive attitude every day in her work. She has a lot to juggle in her role with multiple demands, but always approaches her work with enthusiasm and an upbeat and optimistic attitude. She is fun to be around. Working with staff like Courtenay is why people stay at the UI. She is my Wellness Hero!"