Every year, the Academy of Nutrition and Dietetics puts on the National Nutrition Month campaign throughout the month of March. This campaign promotes a different theme each year to encourage healthy eating habits. This year's theme was "Celebrate a World of Flavors" and encourages individuals to eat a variety of nutritious foods from different cultures and traditions, practice planning meals and snacks, and creating delicious foods at home.
"Celebrating flavors from cultures around the world is a tasty way to nourish ourselves and appreciate our diversity. We are all unique with different bodies, goals, backgrounds and tastes!" – Academy of Nutrition and Dietetics 

https://www.eatright.org/
In addition to tips from National Nutrition Month, this article also features information from the UI Internal Medicine Grand Rounds meeting in January, which focused on health equity and nutrition as a part of the 2022 Martin Luther King Jr. Celebration of Human Rights Week.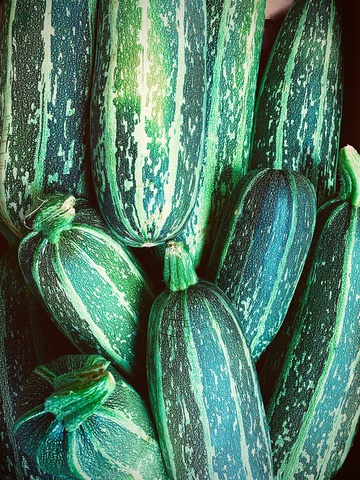 Dr. Linda Snetselaar, UI nutrition researcher and professor, led a presentation on the genesis of the newest U.S. Dietary Guidelines for Americans, which encourages individuals to customize and enjoy nutrient-dense foods that reflect personal preferences, cultural traditions, and budgetary considerations. As a part of this meeting, five panelists shared recipes with special cultural relevance to them, and a few are included at the end of this article.
Read on for ways to enhance your healthy eating with a variety of nutritious foods and flavors. Some recipes have been edited for space.
Eat a Variety of Nutritious Foods
Include healthy foods from multiple food groups

Include ingredients and flavors from your favorite cultural foods

Explore different fruits and vegetables depending on what is in season

Select foods with different texture and colors to add variety
Spring is here and the best time of the year to enjoy fresh fruits and vegetables. Although we know that fruits and vegetables are good for us, we often do not get enough, and we are therefore missing out on important health benefits. Only 20% of UI faculty and staff report getting the recommended minimum number of fruits and vegetable servings (4.5) per day.
One fun way to increase your fruit and vegetable intake is to see how you can add variety to your daily meals and snacks. Here are a few examples from the Academy of Nutrition and Dietetics of ways you can enjoy fruits and vegetables in staple meals across the world.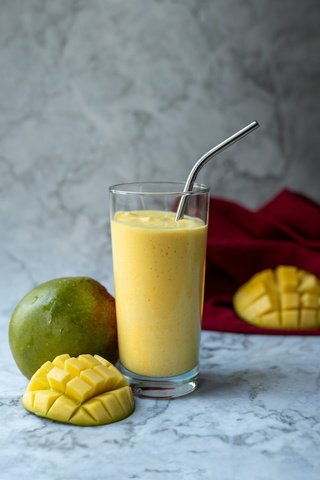 Enjoy a smoothie on the go with tropical fruits like papayas and mangos.
Ingredients: chopped papaya and mango, canned light coconut milk, and water.
Whip up Tortilla Española (Spanish Potato Omelet) with a variety of veggies and have for breakfast throughout the week.
Try out meatless Monday with Asian Indian dish, Bhindi Masala. Pair with lentils for added fiber.
Looking for an easy weeknight meal? Try out Filipino inspired chicken adobo with brown rice and veggies.
Buying fruits and veggies that are in season offer the best taste, abundancy, and affordability. Use the U.S. Department of Agriculture Seasonal Produce Guide to inspire your flavor filled meals from different cultures all year long.
Eating a variety of healthy foods is the best way to help you get all the nutrients you need to optimize your health and well-being. Check out these handouts from the Academy of Nutrition and Dietetics for more ways you can personalize your plate with a variety of foods from other cultures.
Personalize Your Plate: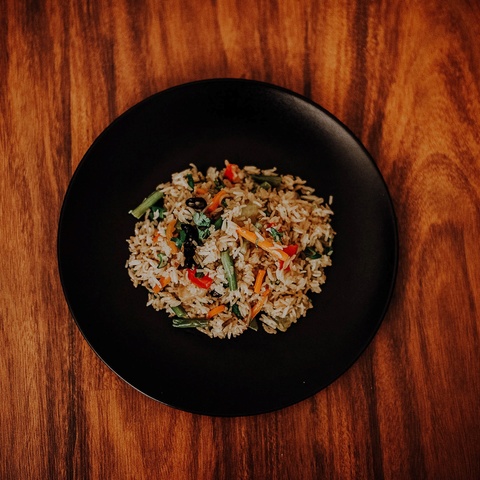 Create Tasty Foods at Home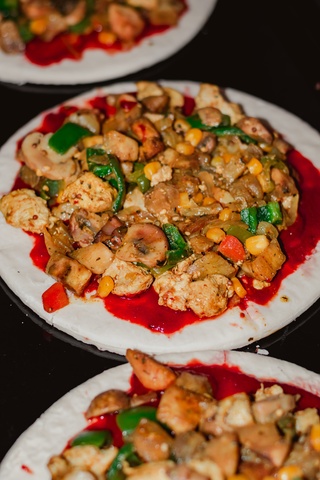 1. Learn cooking and meal preparation skills
2. Enjoy your meals with friends or family whenever possible
Eating healthy can be fun and enjoyable when we are able to prepare meals at home and share them with family and friends. Here are some examples of meals and recipes that you can invite others to share around your table.
Paella: This meal is a popular dish from Valencia, Spain, and it is named after the traditional frying pan that is used to make the dish. Staple ingredients in this dish include rice and saffron, but it may also include meat, seafood, and veggies such as onions, tomatoes, peppers, and peas. 
Recipe: Paella with Italian Sausage and Chicken
Da Pan Ji (Big Plate Chicken): This meal is a Chinese chicken stew with vegetables and noodles that is easy to make a large batch to share with others or meal prep leftovers. The Academy of Nutrition and Dietetics recommends making with extra bell peppers, carrots, or other stir fry veggies and serving over whole grain noodles.
Recipe: Da Pan Ji with Noodles
Mahshi (Stuffed Squash): A Middle Eastern dish that includes veggies stuffed with rice. It is referenced as a common meal for celebrations such as weddings and family gatherings. The Academy of Nutrition and Dietetics recommends paring with a Fattoush Salad of lettuce, parsley, diced tomato, radish, cucumber, onion, and sumac dressing.
Recipe: Kousa Mahshi and Fattoush Salad
The following recipes were submitted by panelists that participated in the UI Internal Medicine Grand Rounds meeting in January.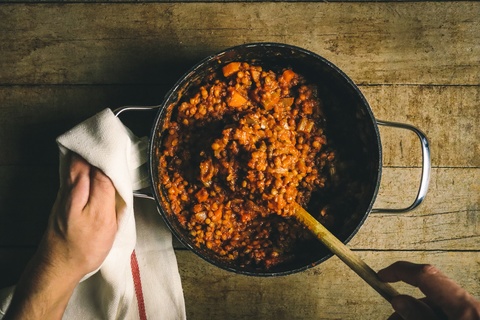 Masoor Daal 
Submitted by Dr. Philip Lutgendorf, Professor, International Programs
Masoor Daal is an Indian lentil-based meal that provides a great plant-based protein, and it is also packed with fiber. This recipe is based on a Bengali-style recipe that was taught to Dr. Philip Lutgendorf by the late Latika Bhatnagar.
Ingredients
1 cup red lentils (or "masoor daal" from a South Asian grocery)

1-2 tbsp of sunflower oil, another light oil, or a small amount of ghee for flavor

1 tbsp mustard seeds (yellow or black)

1 tbsp cumin seeds

Optional: 1 tbsp Kalaunji ("nigella seed" or "black onion seed") available in South Asian groceries)

3-4 large cloves of garlic, peeled and sliced thin

Red chili to taste (either powder or dried flakes, or use fresh green chili, finely chopped)

1 cup canned fresh diced tomatoes. If fresh, partially boil and peel before dicing.

1 tsp salt to taste

1 tsp brown sugar, turbinado sugar, or jaggery (Indian lump, raw sugar)

Cilantro (green coriander or dhaniya) chopped, for garnish
Step 1:
• Wash daal thoroughly (can be done in a fine sieve), drain, and put in saucepan
• Add turmeric, ginger, and about a quart of water (note: this amount depends on whether you want the finished daal to be thick & stewy, or thin and soupy  (I like it both ways!)
• Bring to boil, watching pot so it doesn't boil over and make your stovetop yellow
• Cover and simmer on lowest heat for about ½ hour. Periodically stir with wire whisk to speed up dissolving of the lentils.
• When lentils are mostly dissolved, add salt and brown sugar and continue simmering
Step 2:
• Heat a frying pan or small, heavy saucepan and add oil (and ghee, if desired)
• When oil begins to smoke, add mustard and cumin seeds, and kalaunji (if you have it); be prepared to cover pot with lid immediately, as mustard seeds may "pop" and spatter hot oil
• When "popping" of seeds tapers off, quickly throw in sliced garlic, and fry until the slices begin to turn brown on the edges (Note: this will give off a very strong smell that can quickly permeate your house; you may want to close doors and put on a vent fan if you have it)
• Add red pepper or sliced green chili and fry for another minute
• Add diced tomatoes and their juice; cover pot and let it come to a vigorous boil; cook until the tomatoes begin to dissolve a little (5-10 minutes)
• Pour contents of pot into daal and stir in well; you can let the daal continue to simmer for a while to thoroughly blend it with the tarkaari (the fried spice and vegetable mix)
• Garnish with chopped coriander leaves when serving
Notes:
This can be made well in advance of serving. It tastes even better after a day, and also freezes/defrosts well.
It is delicious with rice (brown or white), couscous, quinoa, or chappattis/naan.
Two options: add finely chopped onion to the spice/garlic/tomato mix (right after the garlic); gives it more body.
Alternatively, you can omit the tomatoes (or not) and add chopped fresh spinach at the end, directly into the daal; cook until the spinach is well wilted but not soggy. This yields "daal-saag" ("daal with greens"), which is also lovely.
Chinese recipes submitted by Dr. Chermaine Hung, MD, Internal Medicine Resident. These can be made all year round using seasonal vegetables. They were passed on to Dr. Hung from a family friend, Mrs. Chui Bo Chan. These recipes have never been written down and the ingredients are not exact. Dr. Hung recommends seasoning to taste.
Minced Vegetables with Fish and Stir Fry Shrimp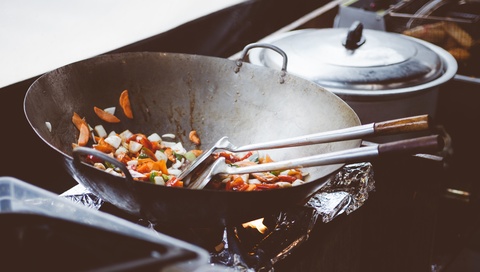 Ingredients
Shrimp

Vegetable: can use peas, chickpeas, and or other vegetable as desired.

Egg white

Green onion, diced

Garlic, fine diced

Cornstarch

Oyster sauce

Sesame oil
Instructions
Remove shells and tail from shrimp. Pat dry with paper towels.

Season with salt and pepper. Add egg whites to coat shrimp, cornstarch, and oil. Stir to mix.

Heat oil in a wok. When oil is hot, add vegetables, garlic and green onion.  Stir fry.

Add shrimp. Stir fry.

Add oyster sauce, sesame oil, and stir to mix. Plate.
Minced Vegetables with Fish
Ingredients:
Minced fish (buy pre-packaged ground/minced fish or mince your own fish)

Seasonal vegetables

Green onion, sliced thin

Ginger in thin slices

Oyster sauce
Instructions
Cut vegetables.

Season fish mince as desired. Add diced green onion.

Heat wok. Add oil after wok is heated.

Add fish mince and flatten the mince with a spatula.

After fish is cooked, use the spatula to cut into small pieces. Remove to a plate.

Heat oil in a wok. Add ginger. Add vegetables and stir fry. Season with oyster sauce. Plate.
Stir Fry Shrimp
Ingredients:
Shrimp

Vegetable: can use peas, chickpeas, and or other vegetable as desired.

Egg white

Green onion, diced

Garlic, fine diced

Cornstarch

Oyster sauce

Sesame oil
Instructions
Remove shells and tail from shrimp. Pat dry with paper towels.

Season with salt and pepper. Add egg whites to coat shrimp, cornstarch, and oil. Stir to mix.

Heat oil in a wok. When oil is hot, add vegetables, garlic and green onion.  Stir fry.

Add shrimp. Stir fry.

Add oyster sauce, sesame oil, and stir to mix. Plate.
Plan Your Meals and Snacks
Choose easy recipes or meals to make during the week
Use a grocery list to help you shop for nutrient dense foods

Use meal planning tricks and tips
Are you interested in preparing more meals at home but often feel like you lack the time and desire for preparation? You are not alone. We all are doing our best to manage busy schedules between work and home. Here are some steps to make planning and preparing healthy meals at home a little bit easier.
Stock up on frozen vegetables and or frozen bags of whole grain or brown rice.

Stock the pantry with whole grains (pastas, cereals, noodles, etc.), canned beans or vegetables, dried herbs, and spices. This way you always have ingredients on hand to put together a healthy meal.

If purchasing fresh vegetables, choose ones that are easier for you to prepare or choose pre-cut veggies if able to.

Prepare extra proteins or whole grains to add to dishes throughout the week.

Purchase low-sodium canned beans and lentils, so you do not have to soak or prepare these ahead of time.
Additional Resources for Healthy Recipes from Around The World