Wellness Heroes is a program to recognize faculty and staff members who are practicing healthy behaviors that are inspiring to others in the workplace. Wellness Heroes are nominated because they are contributing to a culture of health and well-being at the University of Iowa.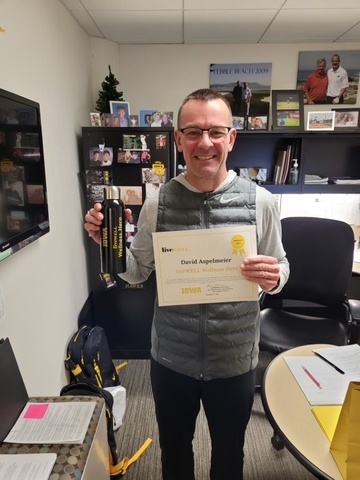 Awards
A Wellness Hero inspires those around them to be healthier. To acknowledge their efforts, a Wellness Hero will be awarded a certificate, a Wellness Hero prize, and be highlighted in the quarterly liveWELL newsletter.
Eligibility
Any faculty or staff member can nominate any other faculty or staff member. 
A nominated person must meet the following criteria:
Make a positive impact in health and wellness in their workplace through a demonstrated behavior or attitude 
Be a UI employee
Nomination Process
The Wellness Hero Nomination Form is located within Workflow. Enter your HawkID and password to complete the form.
You will be contacted within 10 business days to discuss your nomination.
Once approved, a certificate and prize will be issued from liveWELL. It is up to the person/department nominating the Wellness Hero to determine how to recognize the Wellness Hero. Opportunities to recognize Wellness Heroes could include staff meetings, lunch breaks, staff retreats, an on-the-spot celebration, or other activities.
Some Recent Wellness Heroes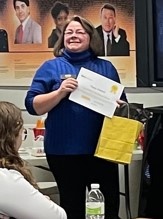 Tami Diebel, Education Support Services Specialist
Nominated by Ted Potter, Senior Law Librarian
Tami encourages her College of Law colleagues to participate in liveWELL activities and sets an example by participatingin as many activities as she can. She conveys the value of exercise and camaraderie, particularly by leading others inparticipating in the annual Campus Scavenger Hunt and The Next Step Challenge.
Becky Jallo-Knorrek, Staff Nurse, UIHC Nursing Service
Nominated by Emily Eilers, Staff Nurse, UIHC Nursing Service
Becky is one of the most generous, kind people I know. Over the summer Becky started bringing in beautiful, fresh cut flower bouquets from her garden. She would get up early for her night shift, cut buckets of flowers, bring vases, and make arrangements to display around the unit. This act of kindness brought such joy and beauty to a unit who really needed it...On top of all the wonderful things she does, Becky is also a great, knowledgeable nurse, with more compassion for her patients than anyone I know. She inspires me to be better and spread kindness. 
Jackie Kleppe,  Director of the Outreach and Engagement division of Marketing and Communications UI Health Care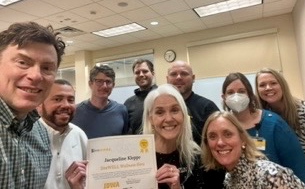 Nominated by Megan Hammes, Senior Director, UI Wellness
As the leader of a team and the President of UI Staff Council, Jackie is a Wellness Hero for taking up employee well-beingas a priority area for campus this year. Through her leadership and having a "call to action" focused on workplace andindividual wellness at each and every Staff Council meeting there will be a ripple effect that positively impact lives inways that we will sometimes be able to measure and sometimes will never hear about. I applaud Jackie and her leadership!
Escobar, Karina, Staff Nurse, UIHC Nursing Service
Hedden, Marlo, Staff Nurse, UIHC Nursing Service
Here are the words I would use to describe working with Karina: Positive-Helpful-Kind-Willing to help- ALWAYS Compassionate. Working with Karina is always a good day. Even when situations are trying, stressful or difficult, she finds the silver-lining, or simply says "what can I do to help you?" She is a shining example of living well at work with her positive mindset.