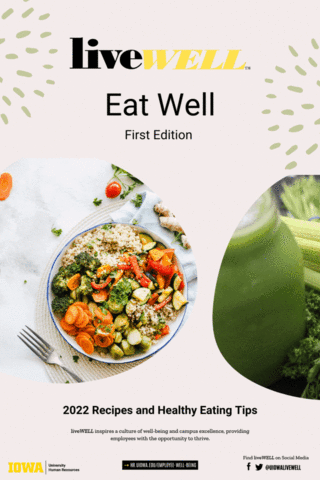 Explore cooking and preparing healthy meals at home with liveWELL's first edition of the Eat Well cookbook. The recipes and healthy eating tips included on this page were submitted by University of Iowa Masters of Clinical Nutrition Students as part of their summer 2022 community project. 
While these recipes include specific ingredients and directions, we encourage you to tailor these recipes to your own personal preferences and cultural traditions. The best healthy eating plan is one that you can sustain, enjoy preparing and cooking, and makes you feel well.
View the links below for recipes that incorporate the colors of the rainbow, easy breakfast ideas, prepare ahead lunches, and quick, healthy dinners.
"This collaboration between the Master of Clinical Nutrition students and liveWELL has been an excellent opportunity to further the students' educational growth, increase their knowledge, and expand their network of health professionals for future opportunities. The effort that the students invested in the project and their pride in the outcome was obvious. It will be exciting to see the projects utilized by faculty, staff, and students across campus."
Laurie Kroymann, MBA, RDN, LD
Director, University of Iowa Master of Clinical Nutrition Program
"Cooking with colors of the rainbow automatically can provide healthy eating and has the potential to focus on cultural preferences. This cookbook is an example of how color can highlight cultural preferences and provide a highly nutritious example of eating well."
Linda Snetselaar, PhD, RDN, FAND, LD
Editor-in Chief of the Journal of the Academy of Nutrition and Dietetics
Professor in Epidemiology, College of Public Health