Melissa Morley has been a University of Iowa employee for two years, and she currently works as an Environmental Systems Mechanic Trainee in the Facilities Management Department. Melissa enjoys her job immensely, but she was interested in increasing her strength to perform the duties of her job more efficiently because tools, pipes, and motors can be heavy. After continually seeing messages about the free liveWELL Health Coach Service, she finally decided to set up an appointment to see if someone could help her get started with her fitness journey.
In the past, Melissa had challenges finding and maintaining exercises that she enjoyed. While working with her liveWELL health coach, Jacob Frederick, they found a schedule and format that works best for her. She signed up for a membership with UI Recreational Services to participate in the Recreation Membership Incentive Program, which provides employees the opportunity to earn 50% off their monthly membership.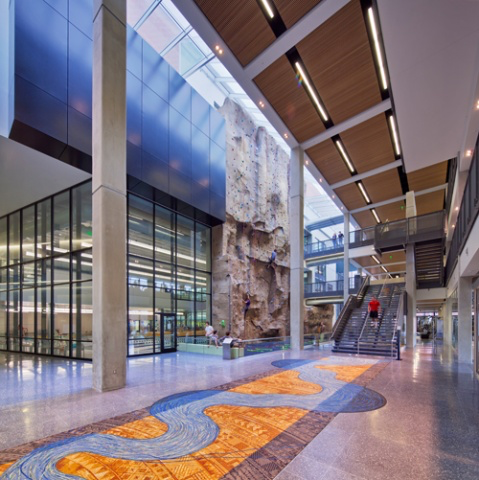 Now she does her strength training right after work before going to childcare pickup. Finding this routine and activity made a world of difference for her because it allows her the space and time to accomplish her goals. Melissa goes to the gym four to six times a week, and exercising is now her favorite part of the day.
Since implementing her lifestyle changes, Melissa has increased her confidence and improved her mood. Her strength has drastically improved, and she has even had multiple friends and family members compliment her on her increased strength.
Here are some words of encouragement from Melissa on her valuable experience working with a liveWELL Health Coach:
"I think when you know you want a change, you have to figure out how to make it happen. What you first try you might not like or might not work. That doesn't mean there aren't other options – keep going until you find something you like.  My health coach became a great resource for ideas and suggestions about how to get started and what to change if something wasn't working. A health coach is someone who will ask how it's going and make sure you're still on track and stick with your goals, and we all need that."
Starting anything new can feel challenging and overwhelming, but liveWELL is here to help and guide you with resources and support. Request a health coaching appointment online or contact liveWELL directly at livewell@uiowa.edu or 319-353-2973. Appointments are currently offered at the Campus Recreation and Wellness Center or via zoom.