Your area may need to respond effectively to a myriad of challenges and changes including, but not limited to: phased and early retirements, consolidating/reorganizing departments and units, concerns about workload, and personal stress and resiliency.
The graphic below, called the process improvement pyramid, illustrates the recommended procedure for supervisors to take when faced with staffing changes. It emphasizes the need to review unit processes for effectiveness and efficiency before making staffing decisions.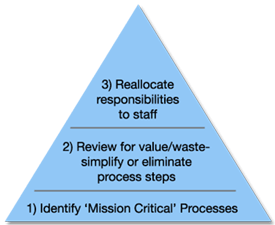 Identify "Missions Critical" processes or tasks.
Review for value/waste - simplify or eliminate unnecessary work.
Reallocate responsibilities to staff.