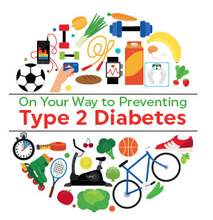 liveWELL is offering the Diabetes Prevention Program from the Centers for Disease Control and Prevention (CDC) to UI faculty and staff. You'll get a full year of support and learn how to eat healthy, add physical activity to your routine, manage stress, stay motivated, and solve problems that can get in the way of your goals.
Who is This Program For?
This class is designed for long-term support, in a group setting, focusing on living a healthier lifestyle, losing weight, becoming more active, and preventing chronic conditions.  
One-Year Program
During the first half of the program, you will meet once per week. Some sessions will be done in person, while others will be done via web conferencing. Session topics include:
Eat healthy without giving up all the foods you love

Add physical activity to your life, even if you don't think you have time

Respond to stress

Cope with challenges that can derail your hard work—like how to choose healthy food when eating out

Get back on track if you stray from your plan—because everyone slips now and then
In the second half of the program, you will enhance the skills you've learned so you can maintain the changes you've made. You'll meet once or twice a month. Some sessions will be done in person, while others will be done via web conferencing.
Sessions will review key ideas such as tracking your food and physical activity, setting goals, staying motivated, and overcoming barriers.

Your lifestyle coach and small group will continue to support you. You may learn some new information, too. 
This program is proven to prevent or delay type 2 diabetes. Participants who lost 5-7 percent of their body weight and added 150 minutes of exercise per week cut their risk of developing type 2 diabetes by up to 58 percent (71 percent for people over 60 years old). 
Eligibility
You must meet all of the following criteria:
University of Iowa faculty and staff in 50 percent or greater, regular positions

Complete the Personal Health Assessment
Be overweight (body mass index above 25)
Have not been diagnosed with type 1 or type 2 diabetes
Not be pregnant
In addition, you must meet one of the following criteria:
Have had a recent blood test in the pre-diabetes range, which includes one of the following tests and results:

Hemoglobin A1C: 5.7–6.4 percent

Fasting plasma glucose 100–125 mg/dL

Two-hour plasma glucose (after a 75 gm glucose load) 140–199 mg/dL

Have received a result of high risk for type 2 diabetes on the Prediabetes Risk Test

A doctor previously diagnosed you with gestational diabetes
Readiness
Participating in a year long lifestyle change program is a large commitment. Participants who are confident in their ability to make changes and feel they are ready are more likely to be successful throughout the program. Complete the Diabetes Prevention Program: Considerations for Readiness form on your own to understand your own readiness to join DPP. After you complete the assessment, and you feel ready to commit to healthy lifestyle changes, we encourage you to sign up for one of the available info sessions below.