We hear a lot about 'putting our own oxygen mask on first' when it comes to helping others. liveWELL has two accessible and free opportunities to support your own self-care by receiving tailored text messages around helpful habits and reminders designed to support your well-being.
Recharge+
The recharge+ program utilizes Resilience Evaluation Measure ©(REM), a validated assessment of resilience to provide you with a snapshot of your current level of resilience and immediate feedback on how you can improve. Upon completion of this short survey, you can elect to receive text messages to receive guidance specified to your current level of resilience.
In 2022, 3,542 UI employees enrolled in recharge+ and 53% improved their level of resilience while receiving reminders to recharge.
People with higher levels of resilience are 79% less likely to be depressed, four times more likely to rate their health as excellent, and 65% less likely to experience productivity loss.
How do I sign up for recharge+?
You must first complete the recharge+ survey (REM). This can be found at your Employee Self-Service website >> Benefits & Wellness >> Personal Health Assessment and recharge+. Upon completion of recharge+, you must opt in to receive the text messages by providing your phone number. You are also able to select the time of day you receive the messages.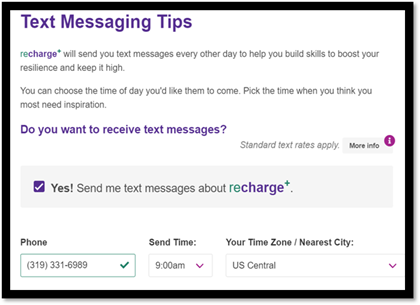 Note: Once you receive your first message, you MUST reply "START." Also, we encourage you to save the phone number "My liveWELL Tips."
You can find step-by-step instructions on recharge+ and a video overview on the liveWELL website.
Tell me more about the messages
Once you're set to receive messages, you will get one about every other day at the time you specified. They will focus on three areas: reset, rethink, and reconnect to  provide you with short and helpful tips and reminders related to personal resilience.
"The texts make me pause for a moment of reflection I would have otherwise not had. It reminds me to stay humble and grateful." -recharge+ user from UI Health Care.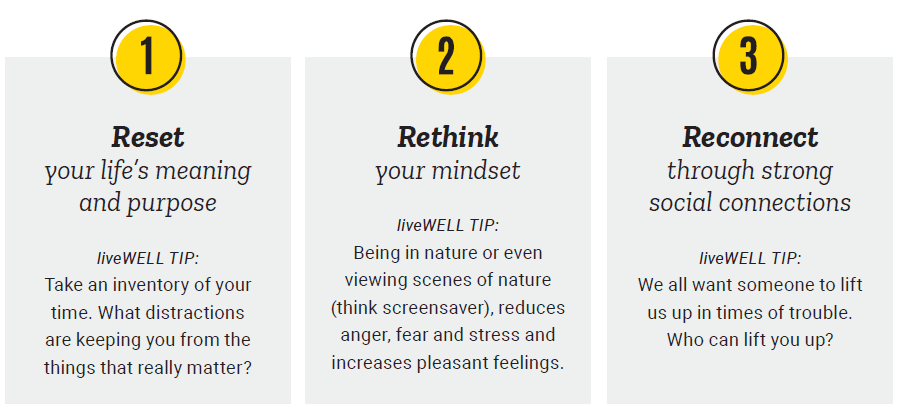 Personal Health Assessment
The Personal Health Assessment (PHA) is one of the University of Iowa's institutional surveys used to measure population well-being. It is also a valuable tool for you to check in on personal health habits and behaviors that impact your overall well-being.
Employees are encouraged to do this check-in annually. There is an option at the end of the PHA to sign up for text messages, like recharge+. They also come about every other day. The difference with the opt-in after you complete your Personal Health Assessment is that the message will focus on personal habits like exercise, nutrition, smoking, and alcohol use that impact our mental health and well-being. They are highly tailored to your survey responses and how you indicated you're doing with each behavior.
Note: With both recharge+ and PHA text messages, you may stop them at any time by replying "STOP" to the messages.
Scan this QR code to take your Personal Health Assessment and recharge+ survey and sign up for tailored text messages!