Resilience is the process of adapting in the face of adversity or significant stress. It is a set of skills that can be developed by intentionally changing thoughts and behaviors.
The American Psychological Association has identified evidence-informed strategies to navigate challenging times:
Make connections

Avoid seeing crises as insurmountable problems

Accept that change is a part of living

Move towards your goals

Take decisive actions

Seek opportunities for self-discovery

Nurture a positive view of yourself

Keep things in perspective

Maintain a hopeful outlook

Take care of yourself
Recharge⁺ ™
Looking for more tips and strategies to help build resiliency? Sign up for Recharge+, a text-based resiliency-boosting program! Recharge+ is designed to help you identify and build the skills you need to bounce back from whatever life throws your way.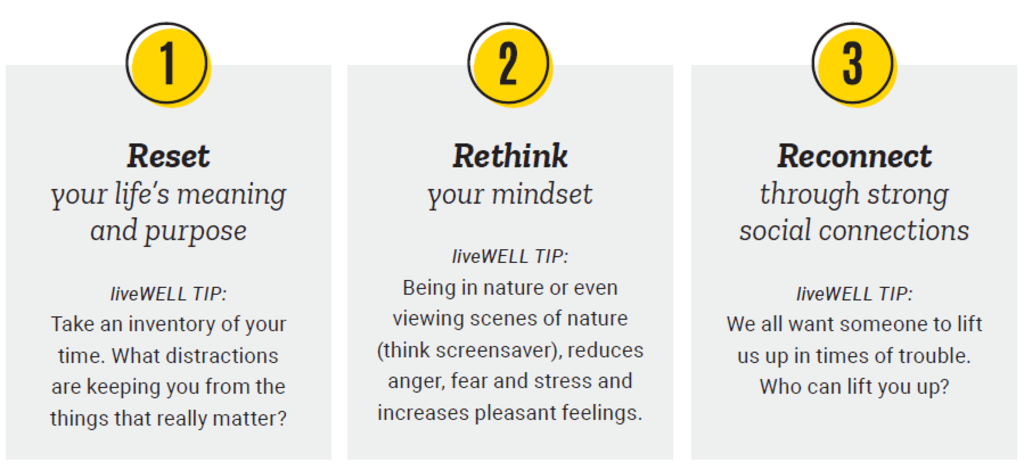 Featured Resilience Videos
In response to the growing uncertainty and heightened stress during this unprecedented time, we have created several new videos to help you navigate. Find additional video resources from liveWELL and its wellness partners.
Research and Resources
Campus Resources
liveWELL can provide presentations to UI work groups on a variety of topics. If your department or area would like us to present on a topic, please fill out this form. We request at least 6 weeks notice and we require an audience of at least 12 UI employees.