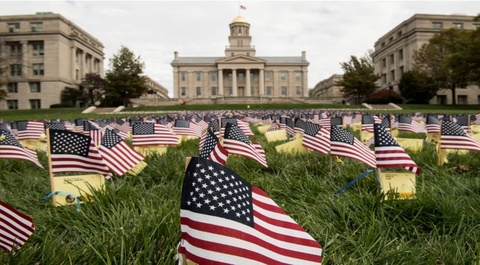 The University of Iowa is home to more than 2,200 Veterans, military spouses and children, and current service members. Please see the list of resources below to assist veteran and military families.
UI Campus Resources for Faculty, Staff, and Students
UI Campus Resources
Family Services provides video resources for families to help young children understand deployment, homecoming, and the grieving process. If you are interested in checking out one of the video resources, please email Family Services. 
The Employee Assistance Program provides family and individual counseling to UI employees and their families. This confidential service is available at no cost and is provided by caring, licensed professionals. For more information please call 319-335-2085 or email eaphelp@uiowa.edu.
UI Campus Resources for Students
IVETS supports Veterans, the military-connected community, and their families at the University of Iowa as they navigate their educational paths. 
Family, Child Care, and Caregiver Resources
Local and National Resources
Local and National Resources Accordian
Local and National Resources Accordian (cont'd)